The Front Porch: A Timeless Space for Conversation, Connection, and Community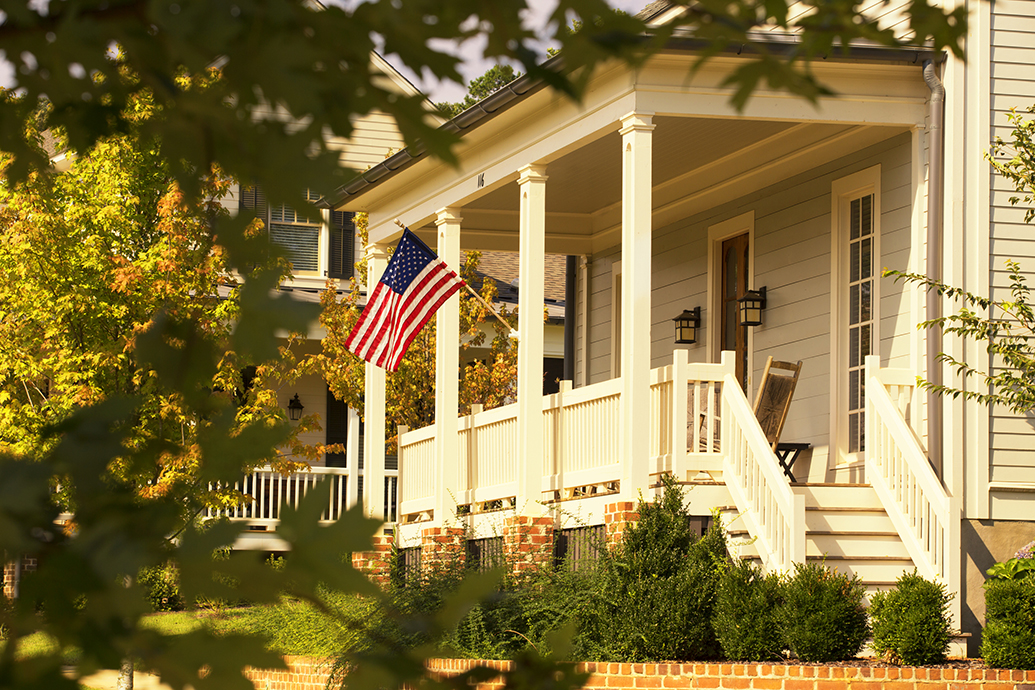 Pass through Patrick Square on foot, bike, or car anytime in the next several weeks, and chances are you'll see carefully placed pumpkins and fall wreaths amid nature's display of reds, oranges, and golds.
If you happen by shortly after dinner, you'll also notice something else—folks outside, leisurely rocking or swinging, glancing up now and then to chat about Clemson football or local happenings with neighbors passing by.
And while the cooler temps and fall decor surely triggers our instincts to curl up indoors with a blanket and anything pumpkin spice, they also highlight one of our neighborhood's most endearing features outdoors—the made-for-fall front porches.
Porches today are making a comeback in planned communities across the nation, but they haven't always been front and center. Before seeing why homeowners are falling in love, once again, with the classic outdoor living space, let's briefly look back at the history of the American front porch.
A brief history of the front porch
According to Adrienne Gaffney in The Rise and Fall of the Front Porch, "Porches became a staple of Southern architecture in part because of the respite they provided from stifling heat. Porches shaded the house walls, which meant less heat inside the home in the pre-air-conditioning era. Porches also acted as a cool, outdoor living space."
In the early 1900s, families convened night after night on front porches to converse, connect, and enjoy the cool night's breeze. Just imagine—a hundred years ago, entire street blocks and neighborhoods spent all their after-dinner hours outside—together.
Two advances in technology, however, changed it all—air conditioning and television.
With the advent of air conditioning, evening routines slowly changed as families remained indoors after dinner. Add the television's nightly allure several decades later, and the front porch gathering became an old-fashioned rhythm of the past.
Nowadays, front porches are enjoying a resurgence as folks seek to recover what the porch so effortlessly offered—connection to others and a deep sense of community right outside the front door.
Building community one conversation at a time
Whether an expansive wrap-around or cozy seating for two, today's homeowners see the front porch as more than a place to sit. It's where friendships are forged and life is shared.
While five-course meals and full table settings have their place, the front porch offers a simpler alternative to traditional hospitality. No need for complicated menus or consuming details—just wander outside with a friendly smile, a willingness to connect, and a spare seat (or two).
If a front porch is part of your home, consider yourself fortunate. You possess an iconic slice of America's architectural past that provided, and continues to provide, an effortless and enduring space for listening, learning, and building community—one conversation at a time.
Local retailers of porch furniture and accessories
If all this talk of front porches has you thinking about a fall refresh, make sure to check out a few of our local retailers of outdoor furniture and seasonal accessories:
M. Tannery & Sons | 112 Ram Cat Alley Seneca, SC 29678 | (864) 882-0300 | Home decor, furniture, gifts, Annie Sloan Chalk Paint®
Patio and Fireside Store | 10239 Clemson Blvd. Seneca, SC 29678 | (864) 888-4413 | Outdoor and casual furniture
Porch Living | 108 Thomas Green Blvd. Clemson, SC 29631 | (864) 723-2507 | Porch design, construction, and enhancement
Simply Carolina | 816A W North 1st St. Seneca, SC 29678 | (864) 973-8440 | Largest selection of high-density polyethylene (HDPE) recycled plastic furniture in the Upstate
Sweet P General Store | 1902 Hwy 243 Townville, SC 29689 | (864) 934-0905 | Home decor, quality furnishings, unique gifts, and more
Swing-O-Things | 10054 Long Creek Hwy. Westminster, SC 29693 | Quality gazebos, pavilions, outdoor furniture, and custom decking
Tri-Star Imports | 12087 Wells Hwy. Seneca, SC 29678 | (864) 885-9556 | Tools- Housewares, lawn and garden, outdoor and seasonal decor, and tools