Trends in Custom Home Design for 2021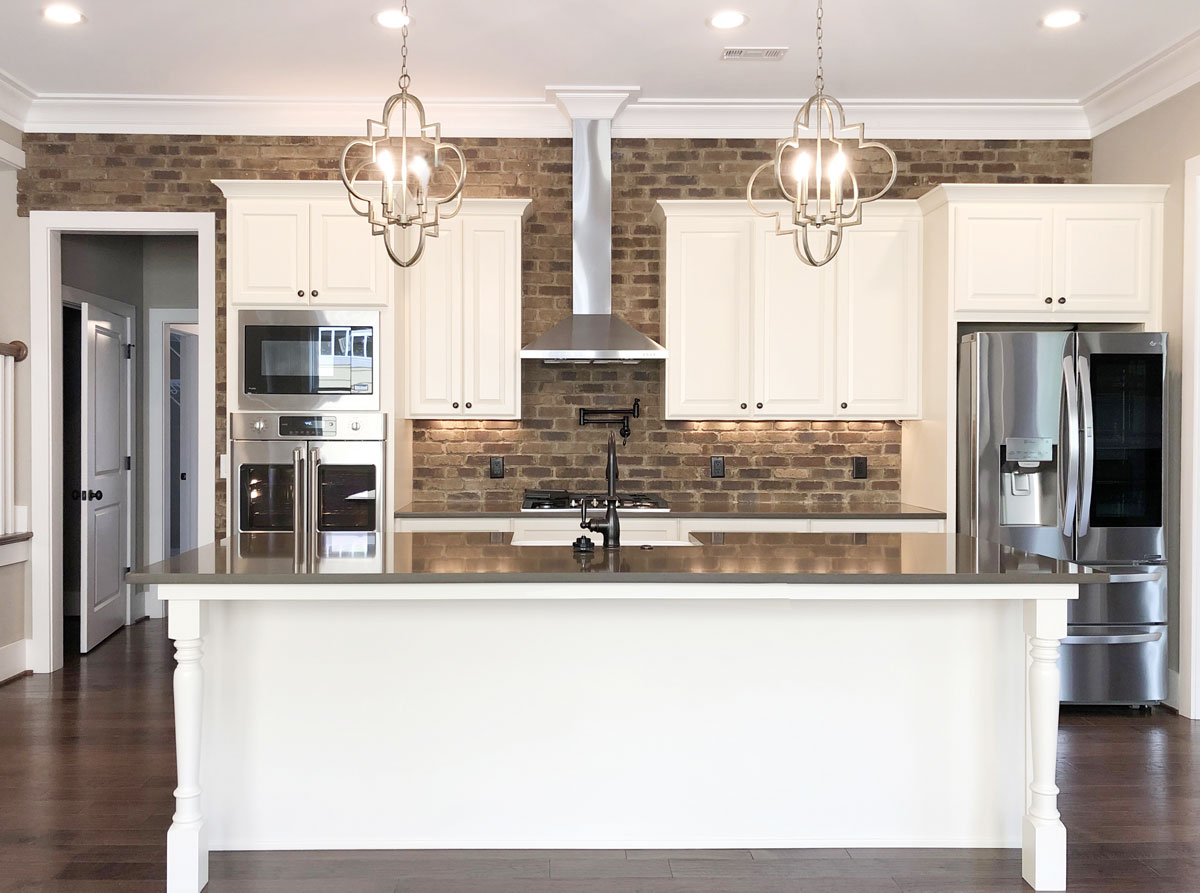 As we head into the new year, it's time to give a warm welcome to a few trends in custom home design — some of which are slight modifications on traditional favorites and some that emerged as last year left us all home for lengthier stretches than ever before.
So if you're thinking of building a custom home or simply love all things home design, here are a few custom trends you may see more of this year — maybe even right here in Patrick Square.
1. Open, flexible floor plans
Open floor plans have been a favorite of homeowners for decades, and for good reason. The popular design choice is well-suited for entertaining, family togetherness, and keeping an eye on the kids (and furry family members). They also allow sunlight to pour in, creating spaces that are bright, welcoming, and spacious.
As much as there is to love, however, open floor plans aren't so great at giving homeowners quiet spaces for working or learning at home. And while designers and architects don't want to overreact to last year's unexpected shifts in work and school, many believe open floor plans coupled with designated flex spaces are the next wave in custom home design.
These semi-open plans will introduce multi-purpose spaces ready to adapt to a homeowner's needs from one day to the next. A few possibilities? An enclosed flex space off the kitchen, a dedicated home office tucked away from the main living area, or even non-permanent walls that can retract or extend as needed.
2. Greater interest in outdoor living
Outdoor community living is part and parcel for residents of Patrick Square. From the lake trail to the community garden and wide street-lined sidewalks, homeowners in the 173-acre traditional neighborhood enjoy plenty of year-round outdoor amenities.
This year builders and architects expect homeowners to crave an even greater connection to the outdoors — especially when such backyard spaces can be enjoyed year-round regardless of weather thanks to outdoor fireplaces, portable heaters, and serious blankets. In fact, designing outdoor areas will become just as much a priority to homeowners as planning the indoors.
Expect interest in outdoor entertaining to explode, given the added appeal of gathering in the open air. Expansive outdoor kitchens with grill and prep stations and novelties such as icemakers, clay pizza ovens, and wine and beverage coolers will be sought-after amenities as 2021 unfolds.
Trends in architectural glass such as floor-to-ceiling glass windows or "curtains" and features like retractable shades, drop-down screens, and outdoor ventilation systems will give homeowners plenty of choices from January to December.
3. Exterior tones and materials
Natural tones have had their prime in exterior paint colors for quite some time — light grays, soft browns, muted greens, and grayish-blues. Expect that to continue in 2021. However, dark grays and blacks are among the hottest trends popping up on home exteriors in neighborhoods across the country.
Regardless of the exterior color scheme, homeowners planning to build will look to incorporate high-quality materials like fiber cement siding and premium insulation that will increase home efficiency and use of the home long-term.
4. Home automation centered on clean living
Until recently, home automation gadgets that control the lights, the television, or the thermostat, were more of a novelty than a necessity. Nowadays, homeowners are giving a second look at how home automation can enhance cleanliness and lessen germ-spreading.
As 2021 unfolds, expect manufacturers to respond with an increase in "touchless" products, including hands-free toilets, bathroom faucets, light switches, and entry doors. Voice-activated appliances and cooktops with sensors are also becoming mainstream in custom kitchens and showrooms.
A dream home for the future
Every owner desires a carefully designed home that's perfect for relaxing, entertaining, or being with family. And now, after last year, owners also want a home that's adaptable. So if you're looking to build, keep one (or all) of these 2021 design trends in mind — doing so will surely lead to a dream home that will breathe, bend, and flex no matter what the future may hold.